About Theatre Group
Theatre Group is the University of Southampton Students' Union's theatre society. If you love live theatre, be it acting, directing or simply going to see shows, we're the society for you!
Theatre Group produces an extensive annual programme of shows throughout the year which are staged in a number of venues in Southampton, most commonly the Annex Theatre on the University's main Highfield Campus. We also take a variety of shows on tour to the Edinburgh Festival Fringe every August.
Additionally, we run regular, free workshops which cover a range of topics and techniques from stage combat to improvisation, from directing techniques to original writing performance, and from Shakespeare to Shaffer. Whether you're a veteran of the stage or just interested in seeing what it's all about, we welcome all Southampton University students who have a passion for theatre.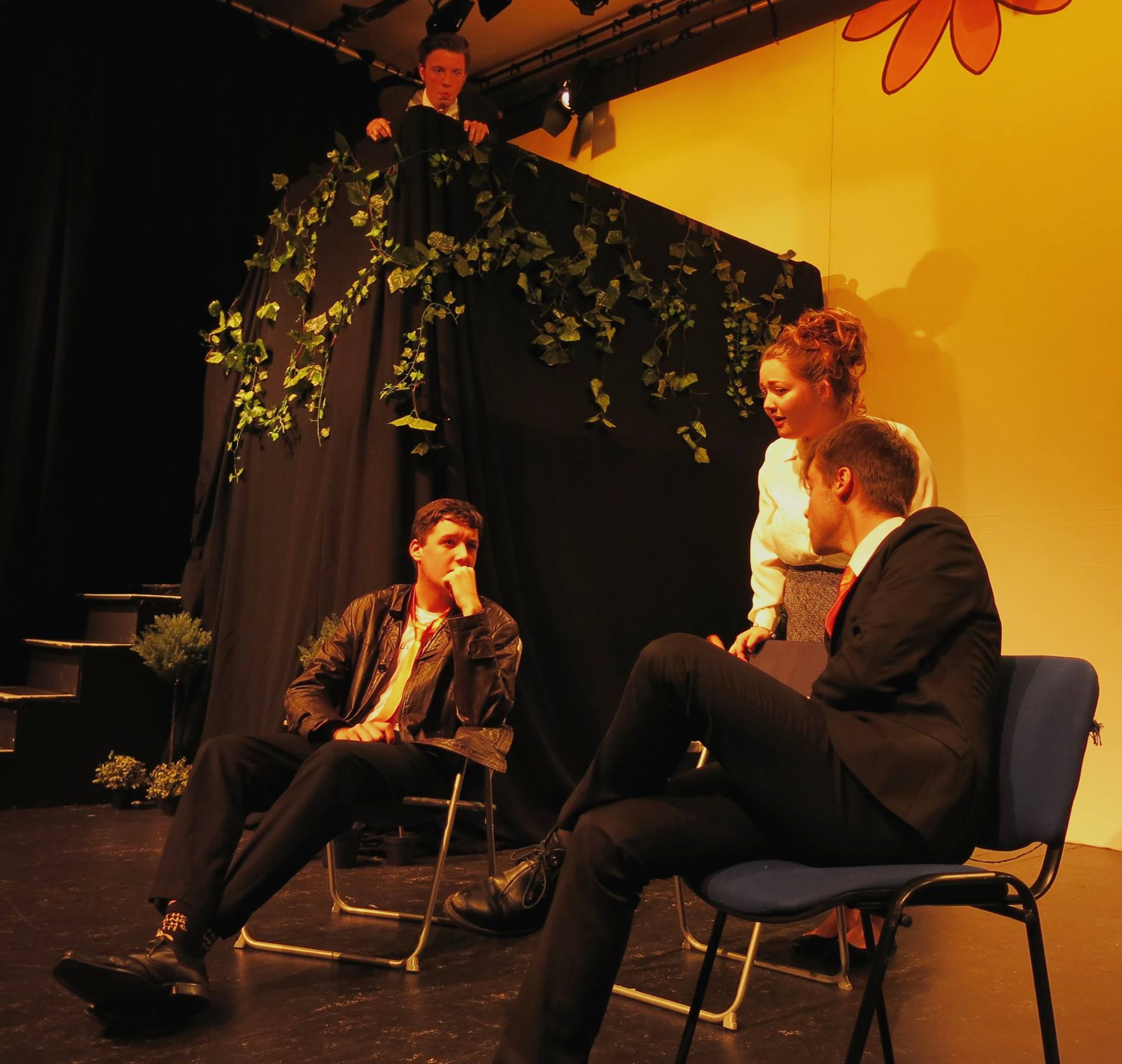 How Can I Get Involved?
There are plenty of ways to get involved with Theatre Group, be it whether you'd like to take on the fully fledged experience of being involved with a show, or instead prefer to just drop in occasionally and experience, partake in, or talk about theatre.
If you'd like to find out what's happening and when, we recommend signing up to our Facebook page on the contact page. This should keep you up to date with all the latest society happenings, events, socials and outings to see shows, so you should always be in the loop.
There's a great number of opportunities throughout the year to audition for any of our productions, or indeed pitch for the opportunity to direct/produce your own, and with over six show 'slots' each academic year, it's never been easier to get involved! Especially for newcomers, the annual Fresher Play is aimed at people who are completely new to Theatre Group - but you don't have to be a 1st year to audition!
And of course you don't have to be cast in a show to be an active member of this society, just come along to our weekly Open House Workshops that are always a great way to spend an evening where you can play games and work on different theatre techniques.
The next step is to become an official member of Theatre Group. This allows you to perform in our shows, attend some of our professional workshops and get discounts to see our shows. It's only £10 and this can be paid to your Director/Producer or any member of the Theatre Group committee and in return you will receive access to all the professional workshops for free. If you're performing in one of our shows then you will also need to get a Performing Arts card which can be bought from the SUSU Box office for just £3, and not only covers all of your show-related insurance, but also grants you discounts on a variety of Performing arts productions throughout the year.
Finally, if you find yourself also interested in musical theatre or theatrical staging, be sure to check out our sister societies, Showstoppers and StageSoc, who cover those respective fields!
If you have any further questions, please contact us. We'd love to hear from you!
Committee Meeting Minutes
Every committee meeting has a set of minutes containing a detailed account of everything that was discussed at that meeting. They're uploaded after every meeting in the Minutes section. They're also uploaded to our Facebook group, so please feel free to join and look through them under the "Files" tab to check out what's happening in your society.
The Constitution
The Theatre Group constitution was recently updated and contains information on all the workings of our society. Take a look if you want to find out more about how we operate.